How do beautiful green spaces, gorgeous sunrises, equally magnificent sunsets, and a preservation of history in one place sound? If it sounds like a place you want to see then browse our list of the most scenic cemeteries in the world.
1. Green-Wood Cemetery, New York
A National Historical Landmark in Brooklyn offers a variety of tours including our personal favorite, the Extraordinary Mausoleums Trolley Tour. Book soon because the tour sells out quickly! We bet you didn't think that would be possible.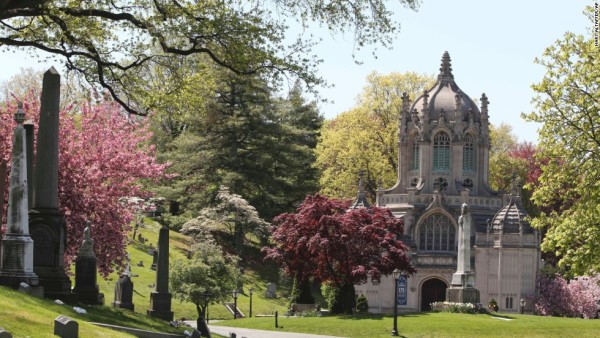 2. Highgate Cemetery, London 
Famous for being the resting place of Karl Marx, Highgate Cemetery has some of the finest architecture in England. If you love destinations with rich history, London is the place to be so you could only imagine what Highgate Cemetery has to offer with over 170,000 burials divided by East and West areas of land.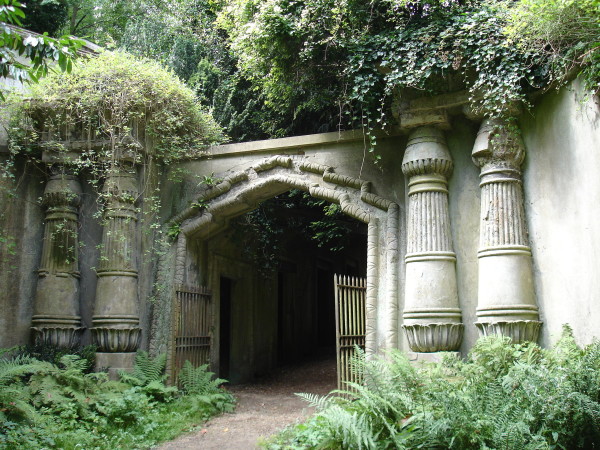 3. Merry Cemetery, Romania
It's called Merry with good reason. Instead of a marker made of rigid stone, Dumitru Pop has every burial site marked with a dynamic carved wooden cross, painted in the beaming blue of heaven, adorned with a painting and an original poem that gives insight into the life and character of the plot's eternal inhabitant. Some of the verses are whimsical while others are heartbreaking. The poems take into consideration the cause of death and what the family members want to convey about their loved ones.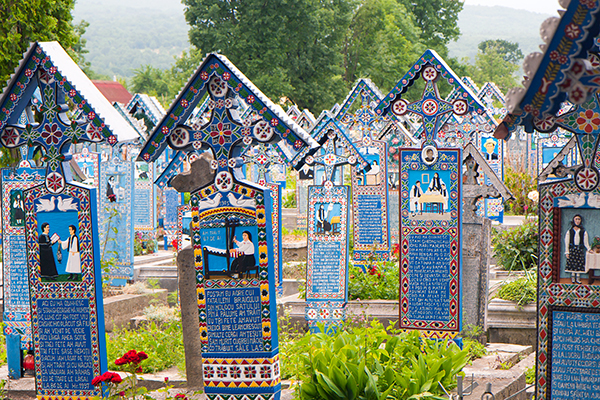 4. Old Jewish Cemetery, Prague, Czech Republic
Thousands of tombstones, ranging in design from Gothic to rococo, are wedged into this 15th century city block–sized graveyard. The Old Jewish Cemetery is an impressive place to feel the immense weight of Jewish history. We recommend the guided tour to get the most out of your visit. The lighting is amazing and with every beam, you feel like you're on an emotional roller-coaster that is Jewish history.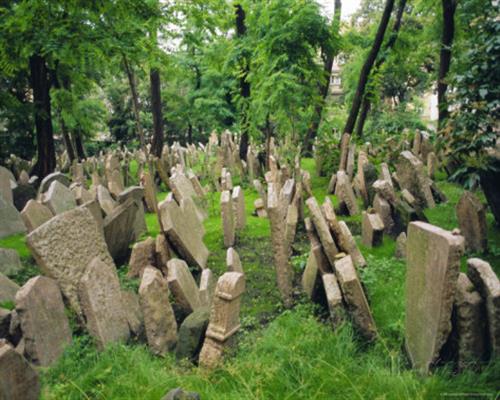 5. Mount Auburn, Cambridge, Massachusetts 
More than 200,000 visit Mount Auburn each year to visit the history buried there, take part in their variety of programs, and take in the natural beauty of Mount Auburn.  Located outside of Boston and founded in 1831, Mount Auburn was the first landscaped expanse open to the public and that ultimately led to the birth of the U.S. park system.
[picture coming soon]
6. La Recoleta Cemetery, Buenos Aires, Argentina
La Recoleta takes the phrase "lifestyle of the rich and famous" and elevates it to the "deaths of the rich and famous". La Recoleta Cemetery is home to the world's most astonishing graveyards, with thousands of grandiose mausoleums reminiscent of Greek shrines, Gothic chapels, enchanted grottoes and sophisticated little houses. La Recoleta is an exclusive cemetery and serves as the final resting place for Argentina's presidents, intellectuals, and entertainers. If you're expecting the lush nature consistent with most cemeteries, think again! There is no grass; it's all marble tile and concrete bricks that make up the walkways. The tours are free of charge and something you shouldn't pass up.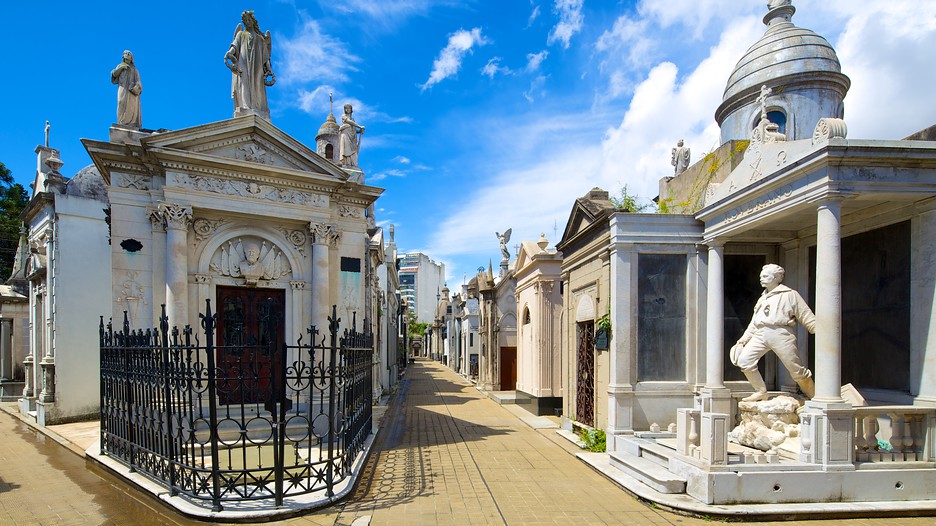 7. Bonaventure, Savannah, Georgia 
Unlike most cemeteries that a state is known for, Bonaventure is not Savannah's oldest cemetery. It is, however, the most famous cemetery in Georgia. For decades, the haunting beauty is motivation for a variety of authors, poets, photographers, and filmmakers. Bonaventure ties a natural cathedral with a sculptural garden to create an atmosphere that attracts every type of personality. 100 acres is a lot to see so check out their events calendar and see if anything stands out enough to make an unforgettable trip!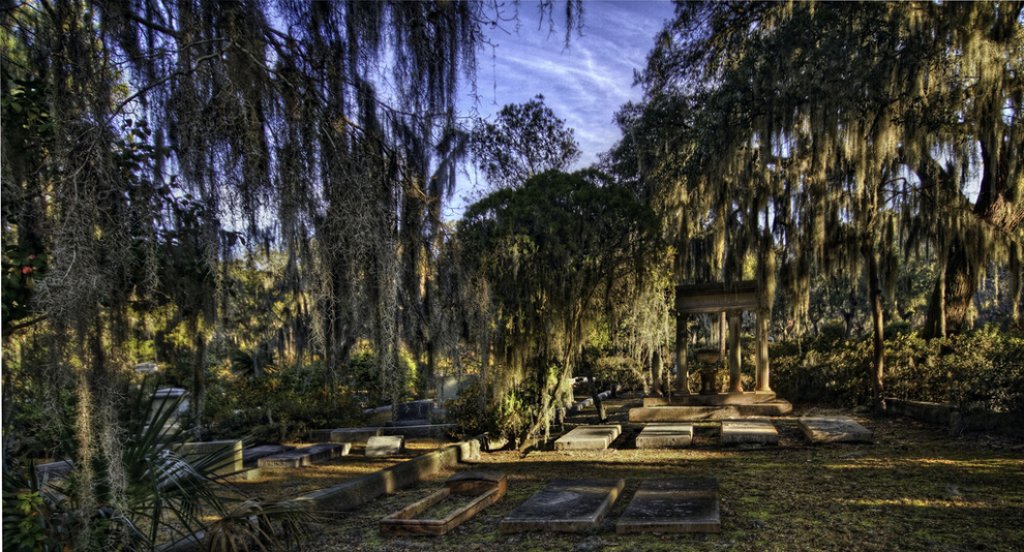 8. Waverley Cemetery, Sydney, Australia
Waverley is home to some of the most inventive and passionate graves. There are not guided tours but you don't need one here. Take a moment to check out the 'vampire' or 'lovers' tomb, which allows you to use your own interpretation to determine if, the life size stone angel holding a little boy is an angel or a vampire. How could anyone be disappointed with an Oceanside location that has an entrance made up of pure white angels pitted against clear blue skies?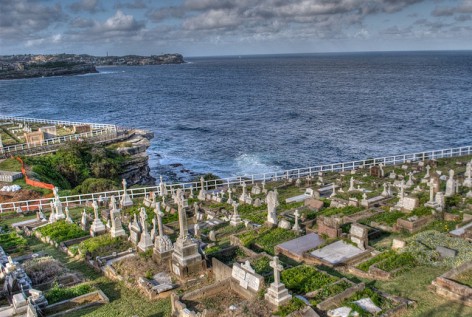 9. Okunoin Cemetery, Mount Koya, Japan
According to the superstition of the Okunoin Cemetery, there are no dead in Okunoin. All those buried on the sacred land are awaiting spirits. Those hopeful for this apocalyptic miracle have placed their loved ones in front of the Kukai Mausoleum and therefore; the number of graves increase rapidly and are already at about 200,000. As if the folklore about the cemetery isn't enough to draw you in, the burial memorials will have you in awe, confused, shocked, and impressed at the same time. For example, a memorial dedicated by a pesticide company that illustrates two exterminators standing over an enclosed space of graves. If that's too awkward for you, the statues of revered monks made with the greatest precision will surely have you wanting to see more. Symbols of earth, wind, fire, water, and the cosmos could be found etched on the monuments of the elite. Shrines in the shapes of rocket ships, coffee mugs, and nurses can be found along the pathways. Okunoin Cemetery is like a museum and that plays a large role in why 1.2 million people visited the cemetery last year. I couldn't imagine why anyone would be curious enough to see why 1.2 million people visited a cemetery within a year's time!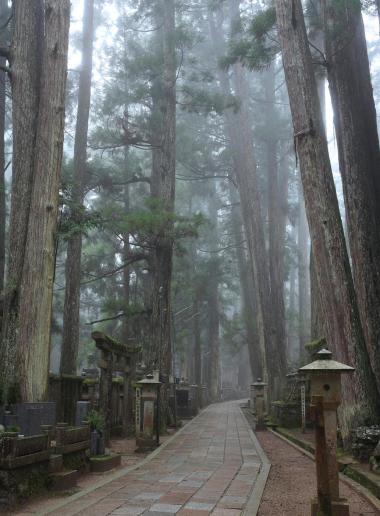 10. Panteón Antiguo, Mexico
Fifteen minutes outside the city of Oaxaca, the cemeteries of Xoxo come alive on Halloween night in preparation for the Day of the Dead celebrations. To welcome the spirits of lost loved ones believed to return on November 1 and 2, villagers decorate the graves with flowers, candles, figurines, and food. Around these festive gravesites, family members gather to wait for the dead while drinking mescal, eating favorite foods of the deceased, and listening to mariachis. In certain instances, mariachi bands can be seen touring these cemeteries and taking requests family members request for their loved one's who have passed.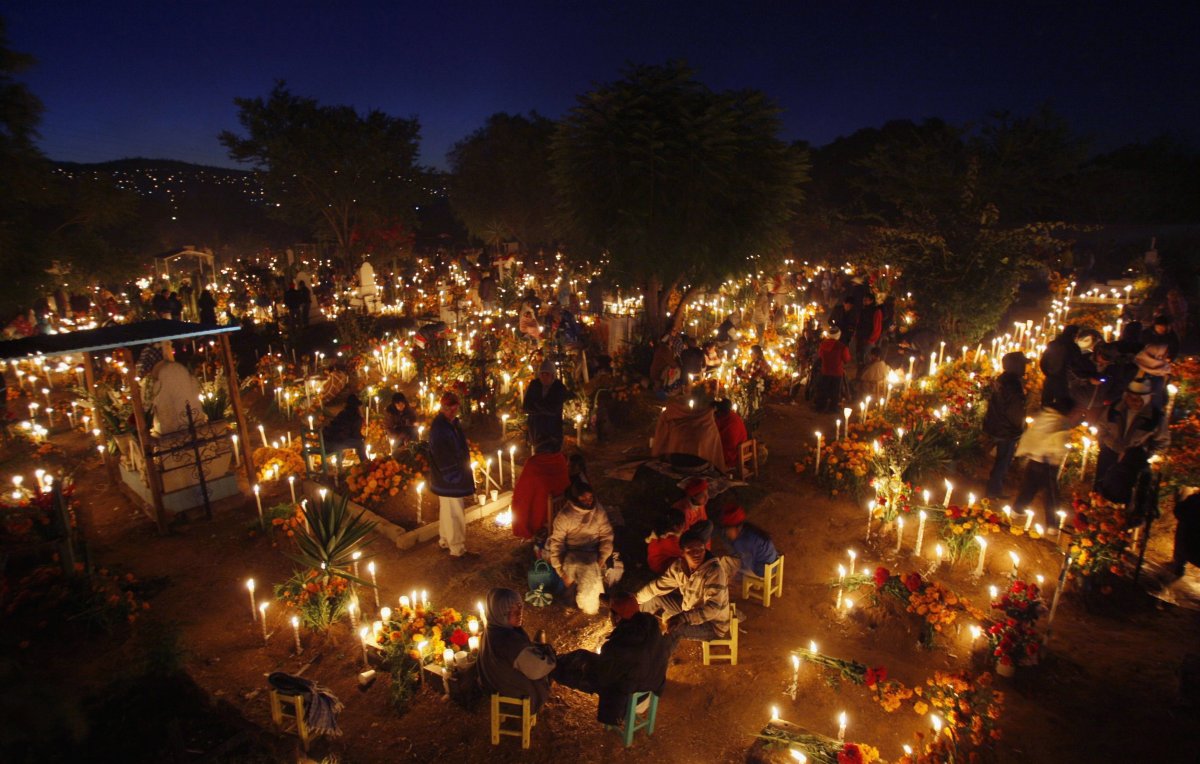 While these cemeteries are some of the most beautiful landscapes you can find in the world, you can make sure your loved one's resting place is taken care of in the same way. Check out the services we offer that can keep your gravesites in the excellent condition they deserve.