What's drawing the largest crowds to cemeteries since Memorial Day? Well the answer isn't Father's Day or the Fourth of July. It's Pokémon Go, the new craze that's putting Pokémon lovers in an exciting augmented reality.
Pokémon Go is a mobile app where players can catch Pokémon, collect game items, and battle against other trainers. The game uses GPS to track location and encourages users to explore and walk around their city to catch more Pokémon and to collect items from Pokéstops, which are located at popular statues, stores, and landmarks all over.
The game has been tremendously popular among Pokémon fans and gamers. While it has been available for less than a week, there have been an estimated 7.5 million downloads in the US and $1.6 million in daily revenue from in-app purchases. Pokémon Go players are applauding the health benefits associated with the game and the game's ability to create new friendships among strangers.
Much respect to the creators of PokemonGO for encouraging exercise in a fun way. Can't blame them for the crashes. Everybody playing lol

— Gento (@YMDgento) July 10, 2016
I walked like 10k today for PokemonGo. This is the best exercise plan ever.

— Trevor Taylor (@drmrthedespot) July 10, 2016
#PokemonGO has honestly helped so much with my depression and anxiety I'm actually talking to people and being active I love this so much

— JENNY DEATH (@cybergoth1997) July 11, 2016
Srsly though, I haven't felt this comfortable leaving the house in years. #PokemonGO is helping with my anxiety & depression & it's amazing.

— Neil (d'class) Tyson (@TheBabyWitch) July 11, 2016
Yet, not everyone is happy with the new Pokémon craze. From increasing distracted driving, finding a dead body, and using the game to lure robbery victims, the augmented reality game has led to some dangerous problems. Particularly, cemeteries have become an unsuspecting target for Pokémon trainers around the country.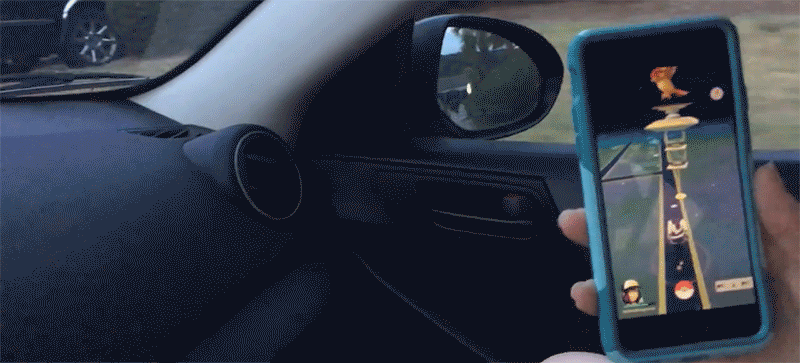 Cemeteries are now the stomping grounds of many Pokémon Go players who are looking to find Pokeballs and other game items from Pokéstops– geolocations where players can obtain game items, usually marked by a well-known statue, store, plaque, or landmark. This is because Pokemon Go was developed by a company called Niantic Labs, who used the same geolocations from a previous game called Ingress. These geolocations include many popular landmarks but also include a number of obscure places like private memorials and gravesites, even the 9/11 Memorial Pool at Ground Zero in Manhattan.
The 9/11 Memorial #PokemonGO Pokespot. pic.twitter.com/M0fzWgizxt

— Erica H. (@bigratsgoboom) July 7, 2016
At one Evansville cemetery, there has been as much traffic in the past few days due to Pokemon Go as Memorial Day weekend. The game has drawn crowds of players to the cemetery which strangely has 26 different Pokéstops on the property. In fact, so many people showed up that the cemetery superintendant, Chris Cooke, had to call the police department to close the cemetery for the night.
"I got really kind of perturbed", said Cooke. The cemetery suffered from storm damage in the past week and the overwhelming amount of traffic was disrupting the condition of the grounds. "Either limit the number [of Pokéstops] or come up with something so that this isn't an issue", he said. As Pokemon trainers all over begin to realize the opportunities that lie in cemeteries, memorial grounds may begin to face more problems with disrespectful or inconsiderate crowds.
Plenty of safety concerns have arisen as the game has quickly gained popularity. Players must be aware of their surroundings in traffic and make sure they aren't trespassing onto private property where many Pokéstops may be located. Other locations such as schools, parks, and cemeteries have special ordinances during hours past dark which disallow people from being there at night. Curfew laws for minors are also in place in many cities where the parents could receive citations if minors are caught out past curfew.
Despite these concerns, Pokemon Go continues to boom in downloads and is creating a new obsession over the augmented Pokemon reality. While many praise the game's innovation and health benefits for users, others cite the dangerous problems that the game brings. Cemeteries should remain on the lookout in the next coming weeks to make sure that their Pokemon crowds are being mindful and respectful for the ones in their final resting places.
Pokemon Go is dangerous. The amount of times my friends have been walking in the road while playing.. it's getting out of hand.

— Caspar Lee (@Caspar_Lee) July 11, 2016
POKEMON is dangerous…but whoa… be careful out there https://t.co/7J2SjEiD9R

— Keegan Allen (@KeeganAllen) July 11, 2016
Although cemeteries will likely be taking proper precautions to keep Pokemon players friendly and respectful of others, most cemeteries are only responsible for the maintenance of their general grounds. There is often no one directly responsible for the maintenance of individual gravesites. To ensure that your loved one's gravesite is well-maintained and cared for, consider gravesite cleaning packages and flower delivery options through Heaven's Maid.