Cemeteries are timeless, and United States is home to some of the most significant cemeteries in American history. Take a moment to browse through the timeless tales of American Heritage that rest within our borders:
1. Fort Rosecrans National Cemetery, San Diego, Calif.
Registered as a historical landmark in 1932, this graveyard became an Army Post cemetery in the 1860s. It is the final resting place for most who fell at San Pasqual in 1846, and for the USS Bennington victims of 1905. As it overlooks San Diego's lively city and glistening bay, the oldest maintained cemetery is located on the Fort Rosecrans Military reservation in San Diego. The heroes buried here who played key roles in the American Military are endless but some notable mentions include:
The San Pasqual monument was erected in 1922 to honor those soldiers who lost their lives in the 1846 Battle of San Pasqual during the Mexican War. Originally buried where they fell, they were reinterred at Fort Rosecrans in 1855. The monument is comprised of a stone boulder with a bronze plaque mounted on it.
The USS Bennington monument is a tall granite obelisk dedicated to the men who lost their lives on that ship in San Diego Harbor on July 21, 1905. The monument was dedicated on Jan. 7, 1908.
Source: (http://www.cem.va.gov/cems/nchp/ftrosecrans.asp)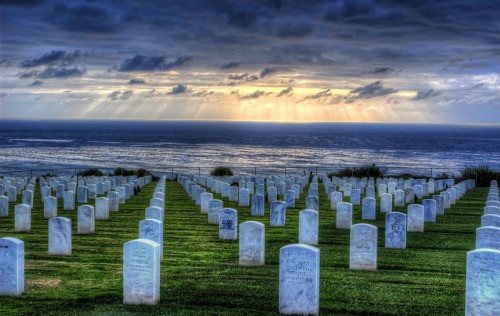 2. Hollywood Cemetery, Richmond, Va.
By foot, by trolley, or by segway; Hollywood Cemetery is so enriched with historical presence that it is a main attraction to this day. Erected in 1847 and set amongst a series of wooded hills and dales overlooking the falls of the James River, the Hollywood Cemetery is the final resting place of over 60,000 people, including 18,000 Confederate soldiers, notable poets, influential congressmen, and dignified ambassadors.
In 1858, The Commonwealth of Virginia reinterred the remains of President James Monroe to Hollywood Cemetery and erected the monumental James Monroe Tomb and in 1862, President John Tyler was buried in President's Circle, in front of the grave site of former President James Monroe. The President of the Confederate States of America during the entire Civil War, Jefferson Finis Davis, is also buried at the Hollywood Cemetery.
The site held so much historical significance that in 1872, Confederates lost during the battle of Gettysburg were reinterred in Hollywood Cemetery in six shipments, arriving by steamship. The bodies were buried on a small rise in the Soldiers' Section, now known as Gettysburg Hill.
Other notable mentions include Supreme Court Justices Peter V. Daniel and Lewis F. Powell, authors Ellen Glasgow and James Branch Cabell, and other leaders from the confederate era.
Source: (http://www.hollywoodcemetery.org/about/our-history)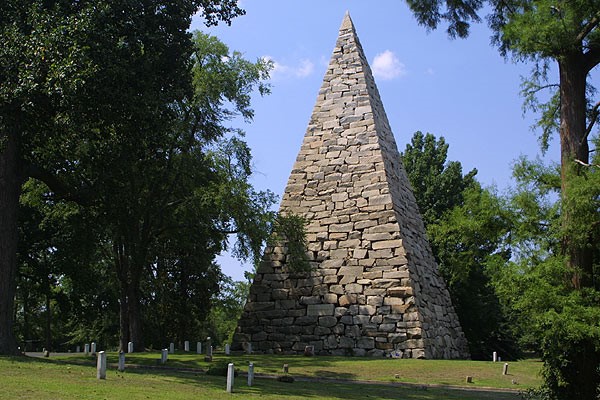 3. Oakland Cemetery, Atlanta, Ga.
"Less than a mile from the heart of downtown Atlanta, a hidden treasure, a secret sanctuary, welcomes you. This garden cemetery, founded in 1850, is the final resting place of many of Atlanta's settlers, builders, and most noted citizens like Bobby Jones, Margaret Mitchell, and Maynard Jackson. It is also a showplace of sculpture and architecture, and a botanical preserve with ancient oaks and magnolias." In March 2008, a tornado tore through Atlanta, toppling more than 100 of the cemetery's trees, and ripping heavy stone sculptures out of the ground. The cemetery is currently in the process of implementing a ten-phase restoration and gardens renovation plan for the entire cemetery. Their plan is to revitalize the cemetery to properly honor Atlanta's past and celebrate its future.
This historical resting place for Georgia's greats includes:
Maynard Jackson, Atlanta's first African American mayor is among many political leaders buried at Oakland Cemetery. Margaret Mitchell, the author of Gone with the Wind and one of golf's greats, Robert T. (Bobby) Jones are also buried here. Bishop Wesley John Gaines, the founder of Morris Brown College and another key participant in Atlanta's rise to greatness is among many other famous educators resting in Oakland Cemetery.
Source: (http://www.oaklandcemetery.com/about-oakland/history/)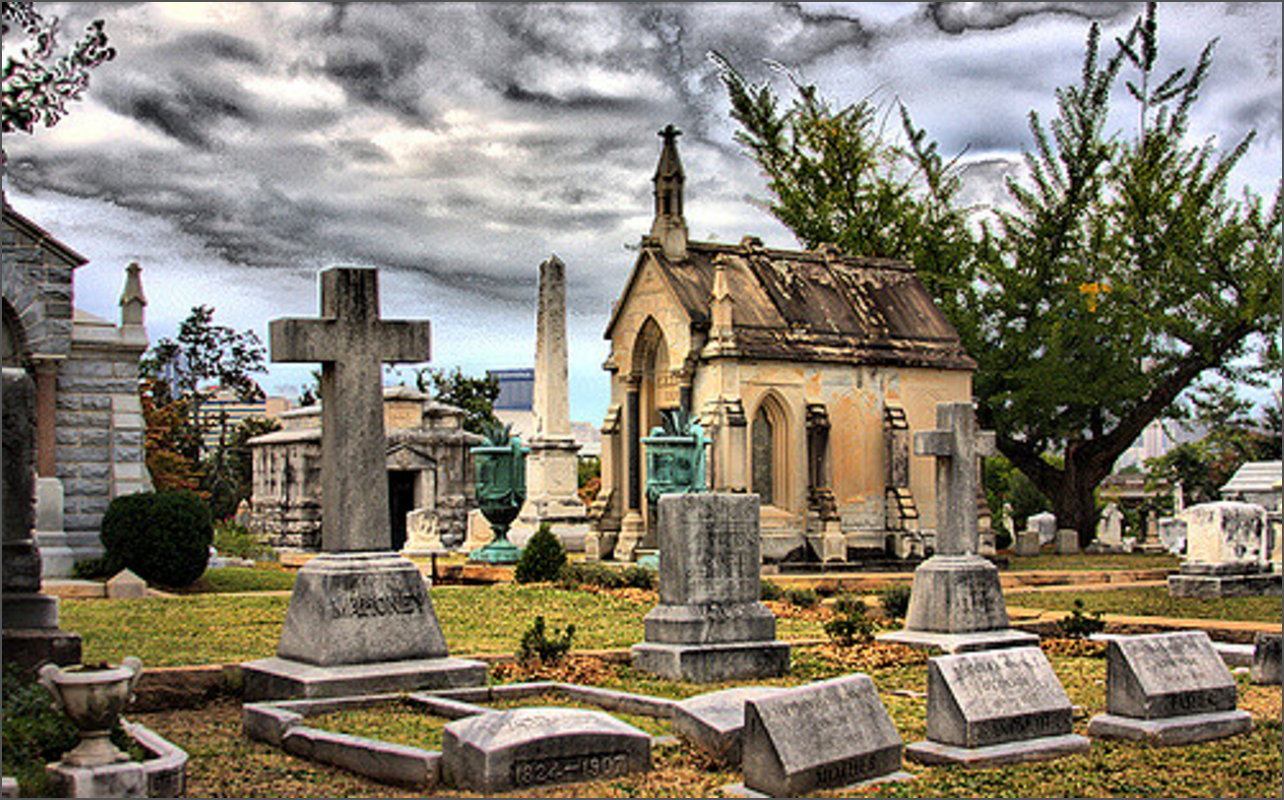 4. Graceland Cemetery, Chicago, Ill.
Founded in 1860, Graceland Cemetery is on the north side of Chicago and is the final resting place of various movers and shakers that played pivotal roles in the windy city. Known as the "cemetery of architects", it is no surprise that gardens and pastoral landscapes have led to an architectural masterpiece that has continued to attract people well into the 21st century. "So many prominent people left behind impressive memorials, designed by leading architects and decorated by famous sculptors, that architectural tours through Graceland are enjoyed by thousands throughout the year."
One of many notable plots is that of the Dexter Graves (1789 – 1844) that belong to the 13 families who first colonized Chicago in 1831.
William Goodman, 1848 -1936, the Chicago lumber tycoon, had a lakeside mausoleum built for his son Kenneth who was a naval lieutenant in training and a victim of the 1918 influenza epidemic. Architect Howard Van Doren Shaw, designed it, using the same neoclassical style he would use in 1925 for the Goodman Theatre, which was founded as a memorial to the Goodman's' son.
In the late 1800s, Potter Palmer (1826 – 1902) & Bertha Palmer (1849 – 1918) originators of the department store that ultimately became Marshall Fields, hired architects to create a Greek temple for their final resting place. Then, in the early 1900s, Marshal Field's founder, Marshall Field (1835 -1906),  was commemorated in a memorial created by the two men who later would be responsible for the Lincoln Memorial.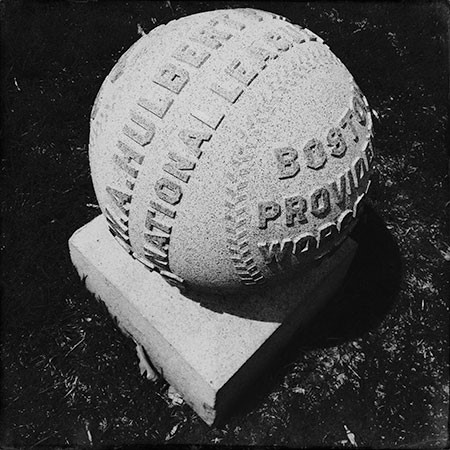 William Hulbert 1832-1882, is memorialized by a tomb in the shape of baseball. Graceland marks the resting place of the man who founded the National League of Professional Baseball Clubs.
Augustus Dickens, 1827 – 1866, could have been a character in his much more famous brother's writings. The younger brother of Charles Dickens, Augustus was well educated, but fated for as much obscurity as his brother was for fame.
5. Laurel Hill Cemetery, Philadelphia, Pa.
"In an era when the city suffered from crowding, disease and scarcity of public space, Laurel Hill offered an "alternative environment." In those times, churchyards were the only places available to bury the dead, and they were often as crowded and unsanitary as the streets that bordered them. Therefore, a grieving father partnered up a couple men and brought to life, his vision of what a final resting place should be. John Jay Smith designed Laurel Hill to be a "picturesque location well outside the city; that it had no religious affiliation; and that it provided a permanent burial space for the dead in a restful and tranquil setting." Overlooking the Schuylkill River, Laurel Hill Cemetery was designated a National Historic Landmark in 1998.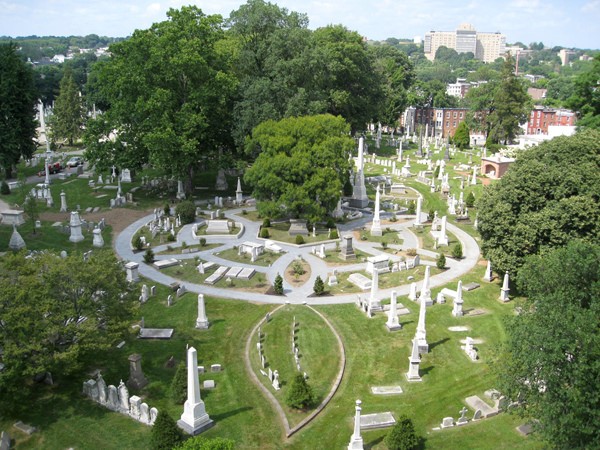 Notable memorials you have to see to believe:
General Meade and thirty-nine other Civil War-era generals reside at the Laurel Hill cemetery. For nearly 100 years, the "Silent Sentry,"a historic bronze statue of a Civil War soldier, watched over the gravesites of over ninety Union Veterans at Mount Moriah. In the 1970s, the 700-pound statue was removed from its base in an attempted theft. It was recovered and repaired by the Military Order of the Loyal Legion of the United States (MOLLUS), who maintained the monument for decades. Efforts were made to find a suitable public location for the "Silent Sentry" and in 2013, MOLLUS approved its relocation to Laurel Hill Cemetery, where it has resumed its duty in guarding the resting places of Veterans of America's Civil War.  Six passengers of the Titanic have also been laid to rest at Laurel Hill.
The tragedy that was bestowed upon the Titanic has been a tragic memory for many across the world. At Laurel Hill, one can pay their respects because six of the Titanic passengers are buried there and memorialized for their heroic efforts.
These are just some of the many attributes that render Laurel Hill Cemetery a primary destination for local and national visitors to the City of Brotherly Love.
Like these historic sites, many cemeteries endure the effects of time and changing weather. As a result, not all of them are maintained in the excellent condition they deserve. Heaven's Maid specializes in solving this problem. Check out how it works!